PIONEER VELCRO
Women's sizes: 7 – 11
Men's sizes: 8 – 12, 13, 14, 15
Width: Medium, Wide, X-Wide
The rugged and durable Pioneer boot  has a rubber sole and a Velcro closure. Designed with a wide toe box and arch support, I-Runner's Pioneer boot will also help prevent blisters and calluses.

Unique Last
I-Runner shoes are built on a specifically designed last for an anatomical and contoured shape. No other shoe brand shares our last.

Wide Toe Box
Our shoes are designed with a wide and roomy toe box to better accommodate those with bunions and hammertoes to have the comfort they require.
Extra Depth
Our shoes are designed to accommodate custom insoles and special orthotics.
Heel Protection
Extra heel padding helps to secure the heel and provides extra stability.
Composite Shank
The hard plastic shank runs the length of the shoe helping to alleviate foot roll.
Air Flow
The shoe's upper allows for air flow and helps to keep your feet ventilated and dry.
---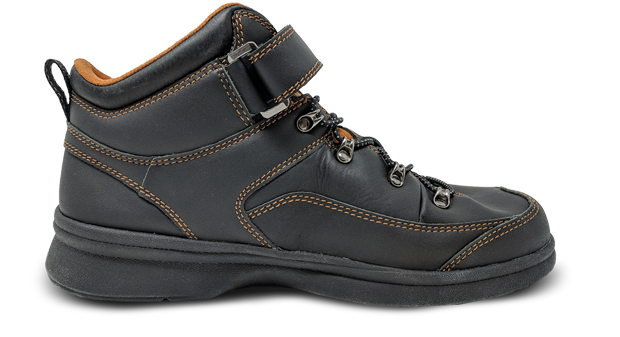 Indicated for foot problems related to:
Diabetes
Neuropathy
Hammer Toes
Bunions
Corns
Calluses
Swollen Feet
Plantar Fasciitis
Pioneer Specs
Mens Sizes: 8 – 12, 13, 14, 15
Womens Sizes: 7 – 11
Widths: M, W, XW
Colors: Black, Caramel
Material: Cowhide leather, pigskin leather
Closure: Velcro
Click Here For Complete Catalog
CLIQUEZ ICI POUR LE CATALOGUE COMPLET
To Place an Order:
Email us at: info@paradigmmed.com
Call (416) 362-0844 or 1 (800) 931-2739